WhatsApp Messenger
In with the new!
If you've seen Jurassic Park then you know that dinosaurs are cool. Highly efficient predators that stalk and coordinate their attacks like elite soldiers in the thick of the jungle. Cool as they may be you obviously wouldn't want one sniffing through your living room and breaking that expensive flower pot you've recently acquired. Worse you definitely wouldn't want one lurking inside your phone! Unfortunately they do. That's right, I'm talking about the SMS, a living fossil of our times. Although not as expensive as a Velociraptor Redecorating Service, it still generates unnecessary costs in an age when it should only be found in the history books. But try WhatsApp Messenger and you might begin to contemplate the SMS's extinction.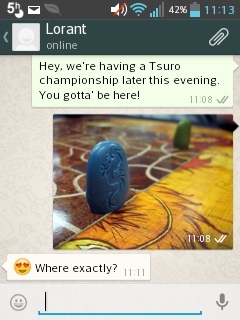 Nothing is free
You'd be generally right to ask why it wouldn't be more practical to use the internet for sending messages instead of the SMS service. WhatsApp Messenger is designed to be used on a mobile phone and uses a witty method of generating your contact list. Creating an account requires the use of your phone number, and that is for two reasons. One is to import your phone book and check who else uses WhatsApp in order to generate your friend list (and then send it to Facebook). The other is to bill you for it. Don't walk away, though! The first year is free and afterwards the subscription only costs $1 per year or less if you subscribe for longer.
The chat interface is simple enough that even a 6 year old child can use it without her parent's permission. You can attach to a conversation anything from a contact's details, gallery item, camera picture, audio recording, to even a Google Maps location. Other than that you have a plethora of emoticons to toy around with and inadvertently confuse your interlocutor.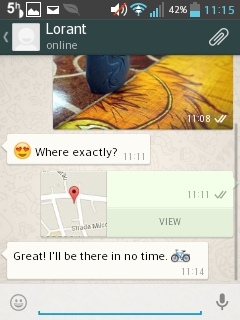 Features
Auto-generated contact list – It builds quicker than saying "Facebook"
Broadcast option – You can create broadcast lists and then send messages to multiple recipients at once
Attachment options – You can attach pictures, videos, audio recordings, locations and contacts.
Pictures and audio messages – You can take pictures and record audio within the conversation.

Emoticons – a wide range of emoticons to add into a conversation.

One thing to note in case you were wondering about coverage. WhatsApp can communicate only over data networks (4G, 3G, EDGE) and WiFi, but all messages are stored in case there's no connection and then sent as soon as it becomes available.
Pros
Easy to set up a contact base, because it's already there
You can integrate a lot of relevant bits of information to your conversation
You can copy conversations or individual messages and send them to others (you big mouth, you)
Cons
It's not free beyond the first year of use
It copies your phone book data (it's a privacy issue)
Conclusion
Using WhatsApp for text conversations over the phone is very comfortable and much less expensive than using the traditional SMS service. It is not the only option, but a very good one if you often prefer to send messages instead of making phone calls.
RELATED PROGRAMS
Our Recommendations
---
---
---
---